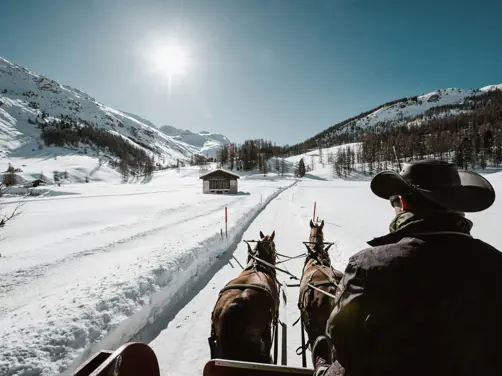 Horse carriage ride in Val Roseg
The most romantic way to go to a restaurant or simply explore the Roseg Valley is in a traditional horse carriage. During the day, you can stop to watch and photograph birds – if you stay quiet, you might get lucky and get them on your hands. The night ride through fresh snow is also magical. Better dress warmly!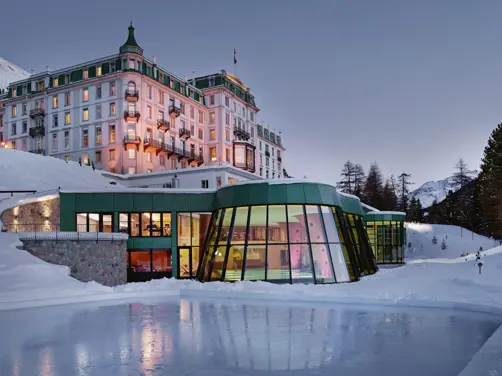 Ice-skating on the Kronenhof Ice Rink
Feel the wind on your face as you skate around the breathtaking Grand Hotel Kronenhof's own natural ice rink at the Kronenhof pavilion. Skate hire available.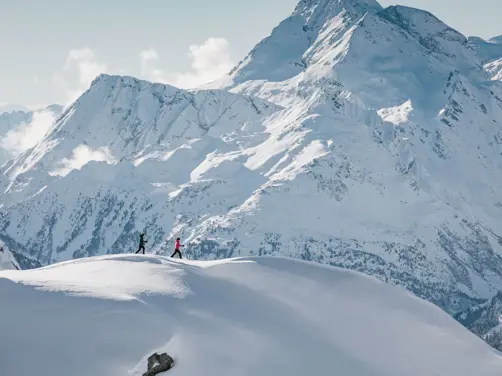 Cross Country Skiing to Lej da Staz
As soon as the Engadine's magnificent cross-country ski trails open for the winter, classic-style as well as skating cross-country skiers are in seventh heaven. For Lej da Staz, there is direct access to the cross country slope behind the hotel.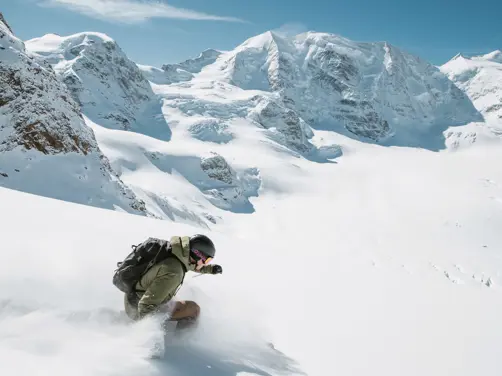 Glacier DESCENT at Diavolezza with views into Val Roseg
A descent down this idyllic path will allow you to immerse yourself in the unique and fascinating world of glaciers that surrounds you on all sides. This glorious descent leads to a wilderness of snow and ice taking you along the moraines of the Pers and Morteratsch glaciers right to the foot of the glacier, and ends just in front of the sun terrace of the Rhaetian Railway station in Morteratsch.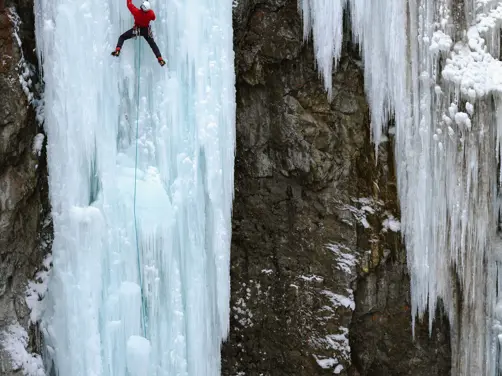 Ice climbing in the Pontresina Gorge
Pontresina has become a major hub for ice climbing. Every winter, the Pontresina Gorge transforms into mighty ice walls. A dedicated team of mountain guides treat the rock with water for optimal ice density, providing climbers with a variety of surfaces. Ice-climbing courses and rental equipment are available from the Pontresina Mountaineering School.